PENGARUH PENGAWASAN, SISTEM AKUNTANSI DAN PENGELOLAAN KEUANGAN DAERAH TERHADAP KINERJA PEMERINTAH DAERAH
Sitti Murniati

STIE Wira Bhakti Makassar
Keywords:
Supervision, Accounting System, Regional Financial Management and Local Government Performance
Abstract
Local government performance is a description of the level of achievement of the implementation of an activity/program/policy in realizing the goals, objectives, mission and vision of the organization as stated in the formulation of an organization's strategic planning. Therefore, the measurement of local government performance must include financial and non-financial performance measurement. Measurement of local government performance is directed at each organization that has been given the authority to manage resources in accordance with their respective fields. The research objective was to determine and analyze the effect of supervision, accounting systems and regional financial management on local government performance, either partially or simultaneously. The research sample came from 60 local government employees and the method of analysis used was multiple regression analysis with the IBM SPSS Statistics program. The results showed that supervision, accounting systems and regional financial management had a positive and significant effect on local government performance, either partially or simultaneously and supervision was the most dominant variable affecting local government performance
References
Annisa, Vivid. 2017. The Influence of Regional Financial Accounting Systems, Regional Financial Management, and Good Government Governance on Local Government Performance. JOM Fekon, Vol.4 No. 1, 1-13.
Bastian, Indra.2016. Public Sector Accounting an Introduction. Third Edition.Publisher:Erlangga. Jakarta.
Chabib Soleh. 2016. Assessing Local Government Performance. Publisher:Fokus Media. Bandung.
Dewi SPA and Harimurti Fadjar. 2017. The Effect of Internal Control, Regional Financial Accounting Systems and Regional Financial Management on Regional Financial Performance of the Karanganyar Regency Government. EKSPLORASI.Volume XXIX No. 2.Universitas Slamet Riyadi Surakarta.
Halim, Abdul. 2017. Akuntansi Daerah Sektor Publik. Publisher:Salemba Empat. Jakarta.
Ireeuw. M. Stevani Veronica. 2019. The Effect of Regional Financial Management and the Regional Financial Accounting System on the Performance of Local Government in the Regional Apparatus Organization of Jayapura City. Jurnal Akuntansi dan Keuangan Daerah.Vol 14 No 1. Universitas Cendrawasih.
Lintong Diana Nova, Saerang David Paul dan Ilat Ventje. 2017. The Influence of the Implementation of the Regional Financial Management Accounting System and Internal Control on the Performance of the Municipal Government of Kotamabagu. Jurnal Accountability.Volume 06 Nomor 01.Universitas Sam Ratulangi.
Novitasari Dea Rahma dan Prabowo Tri Jatmiko. 2020. The Effect of Regional Financial Management and Internal Control on Government Performance in Semarang City Government Work Unit. Diponegoro Journal Of Accounting. Vol 9 No 2. Universitas Diponegoro.
Sugiyono. 2016. Qualitative and Quantitative Research Methods R&D. Publisher:Alfabeta. Bandung.
Ulama Fatra. 2018. The Effect of Regional Financial Management and the Regional Financial Accounting System on the Performance of Regional Government of Gorontalo City. Scientific Articles.Universitas Negeri Gorontalo.
Umar, Husein. 2013. Research Methods for Thesis and Business Thesis. Second Edition.Publisher: PT Raja Grafindo Persada. Jakarta.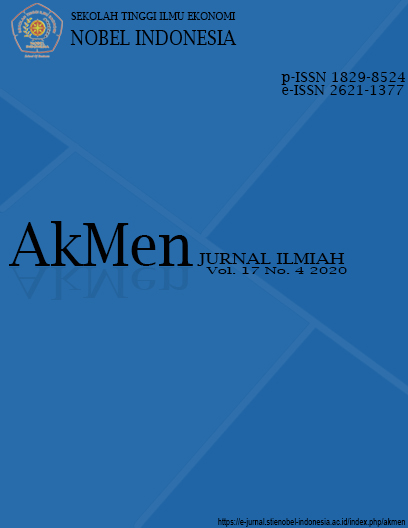 How to Cite
Murniati, S. (2020). PENGARUH PENGAWASAN, SISTEM AKUNTANSI DAN PENGELOLAAN KEUANGAN DAERAH TERHADAP KINERJA PEMERINTAH DAERAH. AkMen JURNAL ILMIAH, 17(4), 548-557. https://doi.org/10.37476/akmen.v17i4.1154
Copyright (c) 2020 AkMen JURNAL ILMIAH
This work is licensed under a Creative Commons Attribution-NonCommercial-ShareAlike 4.0 International License.
Penulis yang menerbitkan pada Jurnal Ilmiah AkMen menyetujui persyaratan berikut:
Penulis memiliki hak cipta dan memberikan hak Jurnal Ilmiah AkMen untuk publikasi pertama dengan karya yang secara bersamaan dilisensikan di bawah Lisensi Atribusi Creative Commons (CC BY 4.0) yang memungkinkan orang lain untuk berbagi (menyalin dan mendistribusikan kembali materi dalam media atau format apa pun) dan beradaptasi (mencampur) , mentransformasikan, dan membangun di atas bahan) karya untuk tujuan apa pun,
Penulis dapat membuat perjanjian kontrak tambahan yang terpisah untuk distribusi non-eksklusif versi jurnal, yang diterbitkan dari karya tersebut (misalnya, mempostingnya ke repositori institusional atau menerbitkannya dalam sebuah buku), dengan pengakuan atas publikasi awalnya di Jurnal Ilmiah AkMen
Penulis diizinkan dan didorong untuk memposting pekerjaan mereka secara online (misalnya, dalam repositori institusional atau di situs web mereka) sebelum dan selama proses pengajuan, karena dapat menyebabkan pertukaran yang produktif, serta kutipan yang lebih awal dan lebih besar dari karya yang diterbitkan.