ANALISIS PENERAPAN HARGA POKOK PRODUKSI PADA USAHA MIKRO KECIL DAN MENENGAH (UMKM) PABRIK ROTI TAENG DI GOWA
Daryanti Daryanti

STIE YPUP Makassar

Neng Indriyani

STIE YPUP Makassar
Keywords:
Cost Of Production, Full Costing Method
Abstract
This research was conducted with the aim of knowing the application of the cost  of production carried out by the Micro, Small and Medium Enterprise (UMKM) Pabrik Roti Taeng di Gowa. This is important considering that the calculation of the exact and detailed cost of products is needed as a basis in determining the right selling price to increase the company's income (profit). Pabrik Roti Taeng is one of the business activities that in applying the cost of production still uses a simple method. In this study, the calculation of cost of production uses the full posting method. Data analysis used is descrptive and comparative method. Production costs are calculated based on estimates. In addition, the company does not take into account fixed factory overhead costs such as depreciation of machinery and equipment into production costs
References
Bustami dan Nurlela. (2013). Akuntansi Biaya. Jakarta. Penerbit Mitra Wacana Media.

Dewi ,Sofia P. dan Kristanto ,Septian B. (2017). Akuntansi Biaya, Edisi 2. Bogor. Penerbit In Media.

Hansen dan Mowen. (2013) . Akuntansi Manajerial (Managerial Accounting). Jakarta. Salemba Empat.

Mulyadi. (2014). Akuntansi Biaya, Edisi ke-5. Yogyakarta. UPPM-STIM YKPN.

Sugiyono. (2017). Metode Penelitian Bisnis. Bandung. Alfabeta

Sujarweni, V. Wiratna. (2015). Akuntansi Biaya. Yogyakarta. Pustaka Baru Pre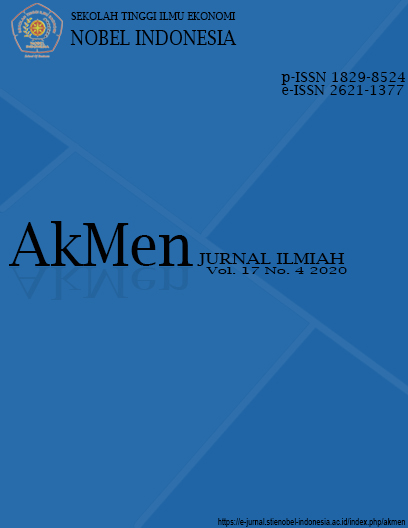 How to Cite
Daryanti, D., & Indriyani, N. (2020). ANALISIS PENERAPAN HARGA POKOK PRODUKSI PADA USAHA MIKRO KECIL DAN MENENGAH (UMKM) PABRIK ROTI TAENG DI GOWA. AkMen JURNAL ILMIAH, 17(4), 630-640. https://doi.org/10.37476/akmen.v17i4.1206
Copyright (c) 2020 AkMen JURNAL ILMIAH
This work is licensed under a Creative Commons Attribution-NonCommercial-ShareAlike 4.0 International License.
Penulis yang menerbitkan pada Jurnal Ilmiah AkMen menyetujui persyaratan berikut:
Penulis memiliki hak cipta dan memberikan hak Jurnal Ilmiah AkMen untuk publikasi pertama dengan karya yang secara bersamaan dilisensikan di bawah Lisensi Atribusi Creative Commons (CC BY 4.0) yang memungkinkan orang lain untuk berbagi (menyalin dan mendistribusikan kembali materi dalam media atau format apa pun) dan beradaptasi (mencampur) , mentransformasikan, dan membangun di atas bahan) karya untuk tujuan apa pun,
Penulis dapat membuat perjanjian kontrak tambahan yang terpisah untuk distribusi non-eksklusif versi jurnal, yang diterbitkan dari karya tersebut (misalnya, mempostingnya ke repositori institusional atau menerbitkannya dalam sebuah buku), dengan pengakuan atas publikasi awalnya di Jurnal Ilmiah AkMen
Penulis diizinkan dan didorong untuk memposting pekerjaan mereka secara online (misalnya, dalam repositori institusional atau di situs web mereka) sebelum dan selama proses pengajuan, karena dapat menyebabkan pertukaran yang produktif, serta kutipan yang lebih awal dan lebih besar dari karya yang diterbitkan.