REDENOMINASI, NILAI MATA UANG DAN EKSISTENSI EMAS DI ERA COVID-19
Chairul Ihsan Burhanuddin

Universitas Muhammadiyah Makassar

Burhanuddin Burhanuddin

Universitas Negeri Makassar
Abstract
It is difficult to understand the economic turmoil that has hit Indonesia, especially in various parts of the world. This is related to the outbreak of coronavirus or the familiar one called covid-19. The economic contraction is clearly striking in various sectors, ranging from trade, manufacturing, to capital markets. Another problem that is no less strange is the value of the rupiah which continues to slump sharply followed by the upheaval in the value of gold whose price continues to soar. Not to mention the issue of rupiah redenomination that continues to roll behind economic uncertainty. This research provides an economic perspective and essence that needs to be built on the various economic problems and issues facing the Country of Indonesia. Therefore, from various explanations of the point of view on the issues that are being discussed in this study provide input to the relevant parties in making decisions in addressing the problem. The importance of the results of this study is to provide information and analysis on how to make decisions and attitudes behind the economic problems that are facing today.
References
Abel, Andrew B, Ben S Bernanke, Esther Rabasco, and Luis Toharia. 2004. Macroeconomía. Pearson España.
Asseery, Ahmed, and David A Peel. 1991. "The Effects of Exchange Rate Volatility on Exports: Some New Estimates." Economics letters 37(2): 173–77.
Baldwin, Richard E, and Virginia Di Nino. 2006. Euros and Zeros: The Common Currency Effect on Trade in New Goods. National Bureau of Economic Research.
Chang, Eric, Ray Y Chou, and Edward F Nelling. 2000. "Market Volatility and the Demand for Hedging in Stock Index Futures." Journal of Futures Markets: Futures, Options, and Other Derivative Products 20(2): 105–25.
Fahmi, Irham. 2012. "Manajemen Investasi: Teori Dan Soal Jawab." Jakarta: Salemba Empat.
Fei, Fan, and Kelechi Adibe. 2010. "Theories of Gold Price Movements: Common Wisdom or Myths?" Undergraduate Economic Review 6(1): 5.
Gathering, Business. "Menciptakan Momentum Pertumbuhan Ekonomi Sulawesi Selatan Untuk Indonesia Maju."
Goldprice.org. "Goldprice.Org." https://goldprice.org/id/spot-gold.html.
Indonesia, Bank. 2010. Laporan Bank Indonesia.
Kesumajaya, I W W. 2011. "Redenominasi Mata Uang Rupiah Merupakan Bagian Dari Tugas Bank Indonesia Untuk Mengatur Dan Menjaga Kelancaran Sistim Pembayaran Di Indonesia." GaneC Swara 5(1): 1–6.
Keuangan, Kementerian. 2013. "Nota Keuangan Dan Rancangan Anggaran Pendapatan Dan Belanja Negara (NK-RAPBN)."
Krugman, Paul R, Kenneth S Rogoff, Stanley Fischer, and William J McDonough. 1999. "Currency Crises." In International Capital Flows, University of Chicago Press, 421–66.
Lianto, Johan, and Ronald Suryaputra. 2012. "The Impact of Redenomination in Indonesia from Indonesian Citizens' Perspective." Procedia-Social and Behavioral Sciences 40: 1–6.
Mosley, Layna. 2005. "Dropping Zeros, Gaining Credibility? Currency Redenomination in Developing Nations." In 2005 Annual Meeting of The American Political Science Association, Washington DC, Citeseer.
Mukherjee, Ms Pallabi, and Kanhaiya Ahuja. "Real Exchange Rate Volatility and Its Impact on Exports: An Evidence From India."
Pasardana.id. "Menkeu Usulkan Redenominasi Rupiah Masuk Prolegnas 2020-2024." https://pasardana.id/news/2020/7/13/menkeu-usulkan-redenominasi-rupiah-masuk-prolegnas-2020-2024/.
Permana, Sony Hendra. 2015. "Prospek Pelaksanaan Redenominasi Di Indonesia." Jurnal Ekonomi & Kebijakan Publik 6(1): 109–22.
Republik Indonesia, Bapenas. 2019. "PERATURAN MENTERI PERENCANAAN PEMBANGUNAN NASIONAL/KEPALA BADAN PERENCANAAN PEMBANGUNAN NASIONAL REPUBLIK INDONESIA NOMOR 5 TAHUN 2019 TENTANG TATA CARA PENYUSUNAN RENCANA STRATEGIS KEMENTERIAN/LEMBAGA TAHUN 2020-2024."
Stone, Patricia W, Deborah Braccia, and Elaine Larson. 2005. "Systematic Review of Economic Analyses of Health Care-Associated Infections." American journal of infection control 33(9): 501–9.
Suselo, Sri Liani, Hilde Dameria Sihaloho, and Tarsidin Tarsidin. 2008. "Pengaruh Volatilitas Nilai Tukar Terhadap Pertumbuhan Ekonomi Indonesia." Buletin Ekonomi Moneter dan Perbankan 10(3): 181–221.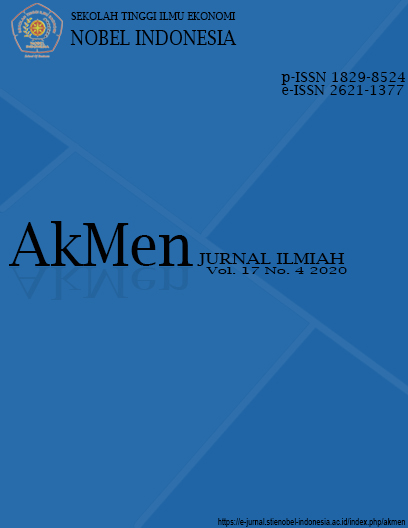 How to Cite
Burhanuddin, C., & Burhanuddin, B. (2020). REDENOMINASI, NILAI MATA UANG DAN EKSISTENSI EMAS DI ERA COVID-19. AkMen JURNAL ILMIAH, 17(4), 529-547. https://doi.org/10.37476/akmen.v17i4.1124
Copyright (c) 2020 AkMen JURNAL ILMIAH
This work is licensed under a Creative Commons Attribution-NonCommercial-ShareAlike 4.0 International License.
Penulis yang menerbitkan pada Jurnal Ilmiah AkMen menyetujui persyaratan berikut:
Penulis memiliki hak cipta dan memberikan hak Jurnal Ilmiah AkMen untuk publikasi pertama dengan karya yang secara bersamaan dilisensikan di bawah Lisensi Atribusi Creative Commons (CC BY 4.0) yang memungkinkan orang lain untuk berbagi (menyalin dan mendistribusikan kembali materi dalam media atau format apa pun) dan beradaptasi (mencampur) , mentransformasikan, dan membangun di atas bahan) karya untuk tujuan apa pun,
Penulis dapat membuat perjanjian kontrak tambahan yang terpisah untuk distribusi non-eksklusif versi jurnal, yang diterbitkan dari karya tersebut (misalnya, mempostingnya ke repositori institusional atau menerbitkannya dalam sebuah buku), dengan pengakuan atas publikasi awalnya di Jurnal Ilmiah AkMen
Penulis diizinkan dan didorong untuk memposting pekerjaan mereka secara online (misalnya, dalam repositori institusional atau di situs web mereka) sebelum dan selama proses pengajuan, karena dapat menyebabkan pertukaran yang produktif, serta kutipan yang lebih awal dan lebih besar dari karya yang diterbitkan.