ANALISIS DAN EKSISTENSI POLITIK KANDIDAT WALIKOTA DALAM MEYAKINKAN PEMILIH PADA PILKADA KOTA MAKASSAR DI TINJAU DARI ASPEK MARKETING MIX
Ansir Launtu

STIE Nobel Indonesia
Keywords:
Marketing, Political, Product, Promotion, Place, Price
Abstract
This Research is of political eksistensi evaluated from aspect of Marketing MIX ( Product, Promotion, Price And Place) in assuring all elector at regional leader election ( PILKADA) of Town Makassar. With the research method have the character of the explanative and use the analysis regresi, known that by the confidence chosen the couple of candidate of regional leader of Town Makassar do not change until hole moment as consequence of image and image candidate which is on the market trusted and believed can overcome the problems ( product), advertisement done to be felt by more touching ( promotion), assess the efficacy belief will and candidate successfulness (price), and the candidate plunged direct meet the elector candidate anywhere reside in and whenever place able to be done as maximum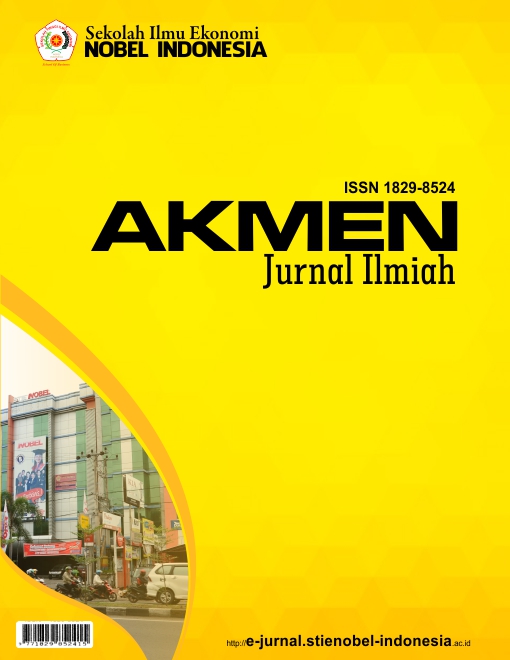 How to Cite
Launtu, A. (2009). ANALISIS DAN EKSISTENSI POLITIK KANDIDAT WALIKOTA DALAM MEYAKINKAN PEMILIH PADA PILKADA KOTA MAKASSAR DI TINJAU DARI ASPEK MARKETING MIX. AkMen JURNAL ILMIAH, 6(2). https://doi.org/10.37476/akmen.v6i2.597
Penulis yang menerbitkan pada Jurnal Ilmiah AkMen menyetujui persyaratan berikut:
Penulis memiliki hak cipta dan memberikan hak Jurnal Ilmiah AkMen untuk publikasi pertama dengan karya yang secara bersamaan dilisensikan di bawah Lisensi Atribusi Creative Commons (CC BY 4.0) yang memungkinkan orang lain untuk berbagi (menyalin dan mendistribusikan kembali materi dalam media atau format apa pun) dan beradaptasi (mencampur) , mentransformasikan, dan membangun di atas bahan) karya untuk tujuan apa pun,
Penulis dapat membuat perjanjian kontrak tambahan yang terpisah untuk distribusi non-eksklusif versi jurnal, yang diterbitkan dari karya tersebut (misalnya, mempostingnya ke repositori institusional atau menerbitkannya dalam sebuah buku), dengan pengakuan atas publikasi awalnya di Jurnal Ilmiah AkMen
Penulis diizinkan dan didorong untuk memposting pekerjaan mereka secara online (misalnya, dalam repositori institusional atau di situs web mereka) sebelum dan selama proses pengajuan, karena dapat menyebabkan pertukaran yang produktif, serta kutipan yang lebih awal dan lebih besar dari karya yang diterbitkan.